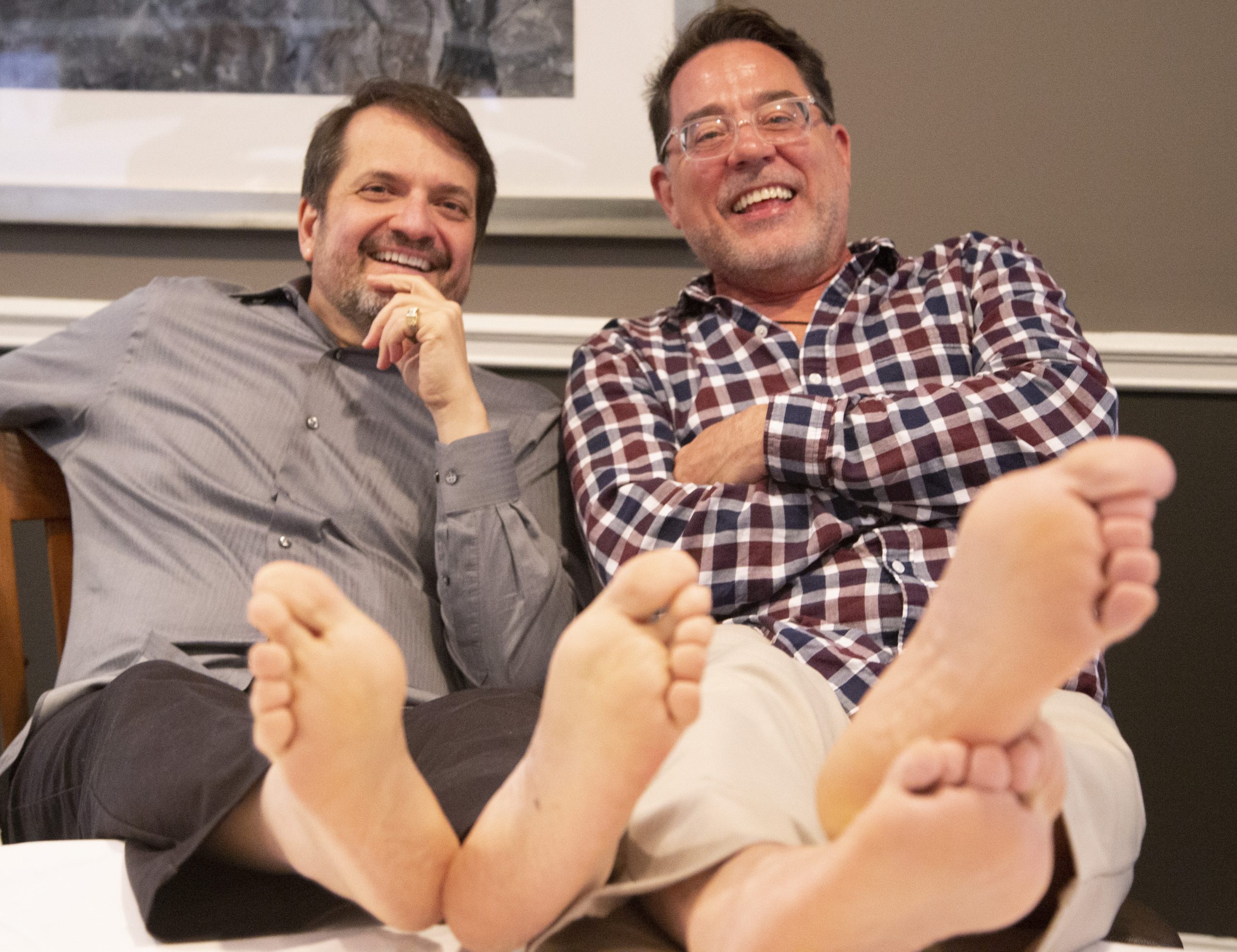 LOVE IS AFOOT! is afoot... and coming to Reading, PA, August 2023
"Love Is Afoot!"… is Afoot!
A Brand New Original Musical is Making its Debut in Reading, PA!
It's a Loving Tribute to the Golden Era of Musicals of the 1940s… with a Modern 'Twist!'

CONTACT: Santo D. Marabella, 610-633-5234, santo@MarabellaLLC.com; Michael LaFata, 310-746-8015, mike@laceyface.com
Reading, PA – April 14, 2023 – Reading natives, Michael LaFata (Love Stinks, LLC)  and Santo D. Marabella (Marabella Enterprises, LLC), are pleased to announce the staged workshop presentation of a new original musical romantic comedy, "Love Is Afoot!," coming to the Pretzel City this summer! Co-producing with the Greater Reading Alliance of Community Theatres, the hilarious romp is the classic boy meets girl, boy loses girl, boy gets girl love story turned upside-down. Think "Singin' in the Rain" if it was done by John Waters.
The script was written by LaFata (ACME Comedy Theatre, UCB) and Perry Sachs (Saturday Night Live, Happy Madison Prods.) with music by Sachs and jazz legend, Kevin Guillaume. The story is set in 1940s Reading, PA with a soundtrack that swings to a Big Band orchestra. Broadway veteran, Laura Bell Bundy (Legally Blonde, Hairspray) brings her deep theatrical roots on-board as Creative Producer. More information, including the award-winning music, executive produced by maestro great, Tim Davis (Glee, Boy Band)  can be found on the website:  www.LoveIsAfoot.com.
The production is scheduled for the weekends of August 4th, and August 11th, 2023. The workshop's intention is two-fold:  gauge audience appeal and pitch the musical for a Broadway exhibition and professional theater productions.  It will be more than a staged reading but not quite a full production. The beautiful The Miller Center of the Arts at Reading Area Community College will host the production with a cast of approximately 15, an orchestra of 6 musicians, and direction by Marabella. 
The creative team so far also includes the incredible talents of: Scott J. Piergrossi and Christopher Sperat, music and vocal direction; Amanda Phillips and Hope O'Pake, choreography; Brett Buckwalter, Andrew Pochan, Tara Sands, scenic and technical design; Megan T. Martin, hair/make-up; Adele Miskie, costumes; Rachel Degler, stage management; and, Mark Dolinski, Dr. Henry O. Patterson, Piergrossi and Sperat, musicians; Berks History Center, production partner..
Casting has begun and will be completed by early June. An open call for un-cast roles will be held on Sunday, April 23, from 2pm to 5pm. Women, men – all ethnicities – are being cast for open principal roles and all ensemble roles. If you are interested in auditioning, please contact Santo D. Marabella at:  Info@MarabellaLLC.com  with "LIA  Auditions" in the subject line.
In addition to casting, the Producers are seeking partnerships with companies and individuals in the region to support the production. Monetary and in-kind donations will be accepted by the Greater Reading Alliance of Community Theatres on behalf of the production. All sponsorship donations to the "Love Is Afoot!" musical are tax deductible!