Theatre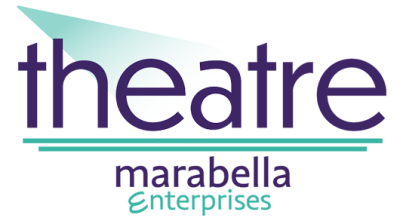 Theatre, like life, is improvisational, in the moment and authentic. M.E. creates and produces theatre that tells contemporary stories relatable to a wide range of audiences.  M.E. always looks for opportunities to develop and share new stories for the stage – proscenium, blackbox or beyond the wall.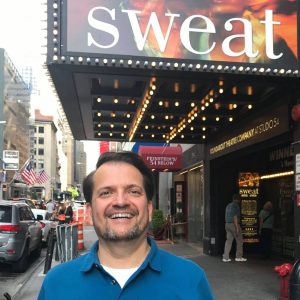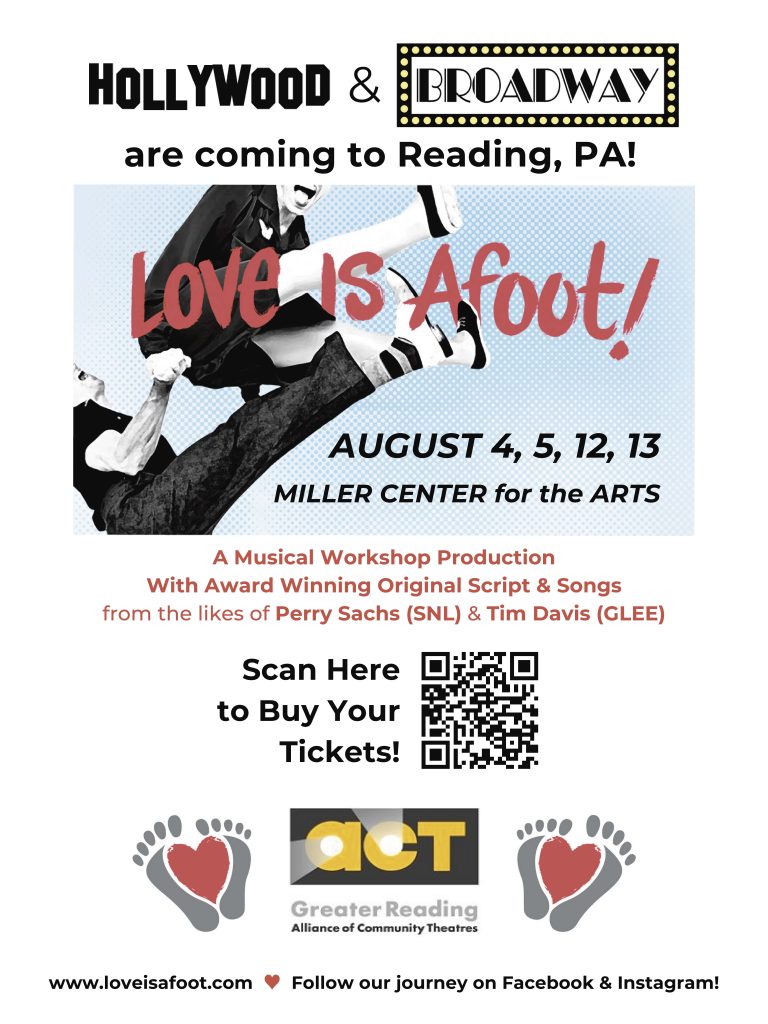 Love Is Afoot!
(Aug 4 - Aug 13, 2023)
Synopsis
At its core, "Love Is Afoot!" is a love story about two teenage sweethearts and their struggle to be together. The movie chronicles the life of Joe Smoot-Nibley and his journey for acceptance and quest to find his "sole-mate." He's a hopeless romantic in love with the girl of his dreams… and more specifically, her sweet feet. That girl is Rose Marie Pedals, and it was love at first sniff the moment they met at his shoeshine stand. Rose Marie is beautiful inside and out. She adores Joe and understands his desires because she actually has a "thing" for feet herself plus she's obsessed with shoes – lots of shoes. But due to what society says is a forbidden love and being from different socio-economic classes they're pulled apart again and again. Giving in to pressures from her peers and family, Rose Marie ends up unhappily married to the rich, popular jock, Buzz Nelson, leaving Joe to settle down with a super tall woman named, Millie Liskusky who treats Joe like dirt. Millie's only redeeming quality is the extra digit on each of her oversized feet. But twelve toes aren't enough to make up for the ten that got away. It's through help and sage advice from a magical Italian shoe cobbler, and through song and dance, that they learn about the importance of acceptance, love and staying true to oneself.
Background
Reading, PA, native and entertainment writer, Michael Lacey had been working with his Los Angeles partners for years on a film version of this contemporary homage to the big movie musicals of the 1940's and 50's.  But after some soul-searching and reality testing, it became clear that the theatre was the best home for this project.  Stay tuned, for this summer (2023), you'll be able to see a workshop production of LOVE IS AFOOT!
Producer and director (2023) 
Synopsis
When Bill comes to see his aging mother, Ida, who is residing in a nursing home, he usually expects his engaging mother to treat him to some exciting re-tell of her daily activities. But, today was different – Ida has a story to tell, but it's not at all anything like the ones Bill has come to look forward to. This time, he gets a glimpse into the past his mother so often kept quiet. And, he will never be the same because of it!
Background
Work Will Bring You Home was inspired by the recollections of a Nazi concentration camp survivor.  Suffering from age-related dementia, amidst lapses of clarity, they recounted a similar experience as the Mother in this play.  It was performed at the Yocum Institute for Arts Education as part of Reading Theatre Project's Fringe on the theme "Finding Home." 
Writer and director (2019)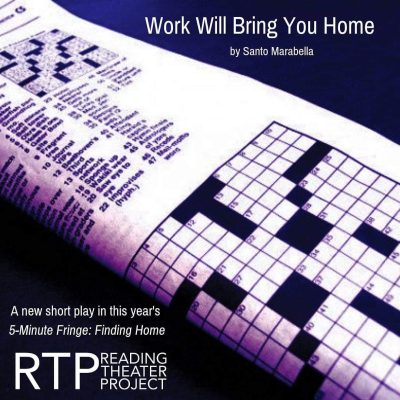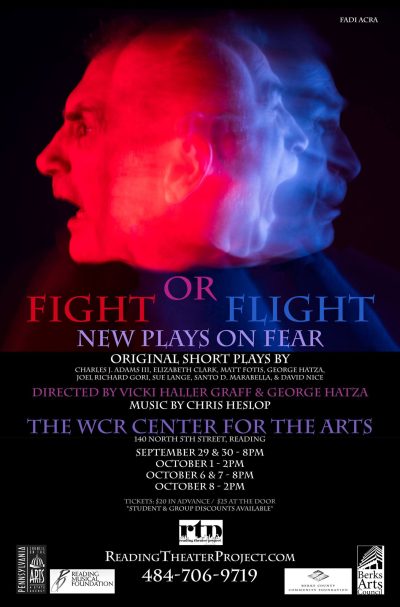 Synopsis
When President Roosevelt said, "the only thing we have to fear, is fear itself," in his first inaugural address in 1933, he was underscoring the paralyzing effect that being afraid had on our ability as a nation to move out of the depression towards prosperity. It's not much different for us as individuals: our fears can immobilize our ability to lead productive and satisfying lives.
Metis and the Man acknowledges the pervasive cultural context of fear in which Americans live and the disempowering impact it has on us as individuals. More importantly, it calls attention to the power we have to manage our fear. If we are open to re-perceiving it as a force to reckon with in our present, which is relegated to our past, so it doesn't impact our future.
Background
Marabella's play, Metis and the Man, a one-act, was performed by Reading Theater Project, as part of their Fight or Flight production at the WCR Center for the Arts, Reading, PA.
Writer (2017)
Synopsis
"This Is Reading" is a multimedia performance installation that tells the story of Reading, PA, by honoring its past, acknowledging its present and celebrating the future it can have for all of its people.
Background
Marabella was a Producer of This Is Reading, the performance arts installation created by the two-time Pulitzer Prize winning (RUINED, SWEAT) and Tony nominated playwright, Lynn Nottage (SWEAT).  He worked with Lynn and her team from 2012 through 2017 to facilitate their creative process, identify and secure community resources and promote this 18 performance, three weekend run which attracted more than 3500 people from the City of Reading, the County of Berks and as far as New York City, Philadelphia and states across the midwest and west.
Producer (2017)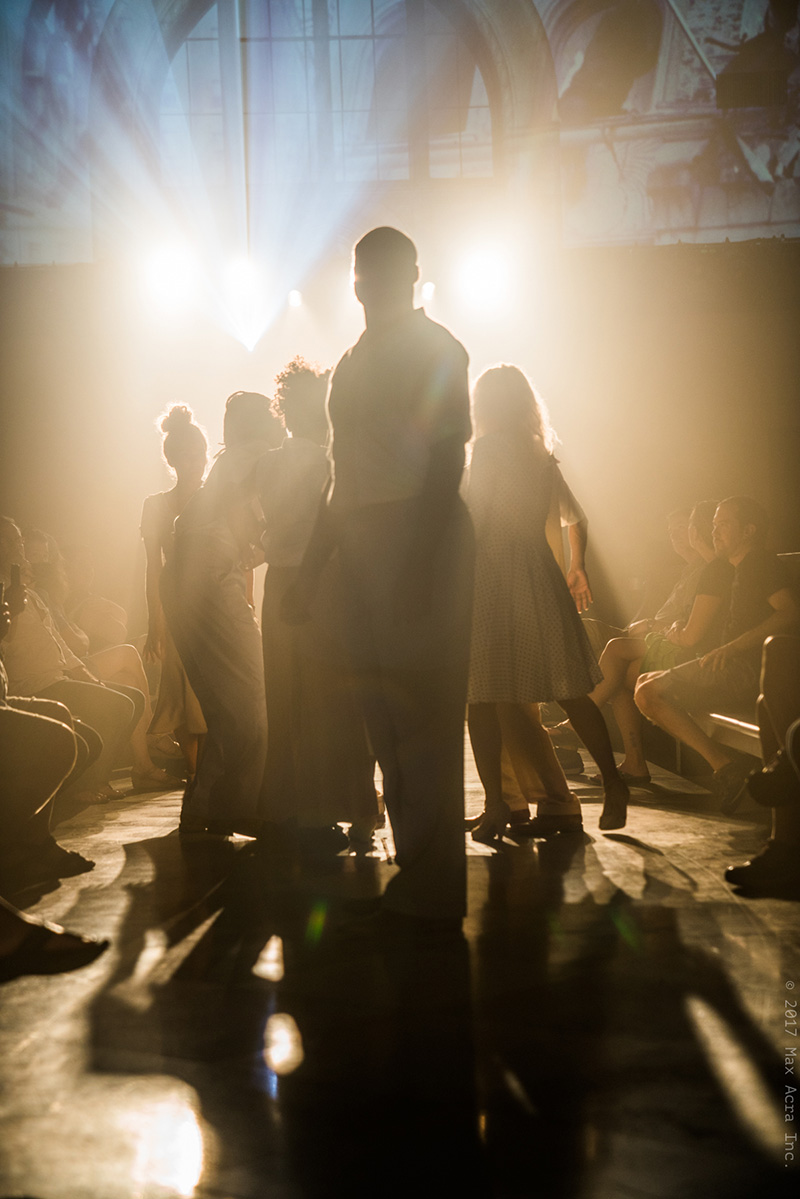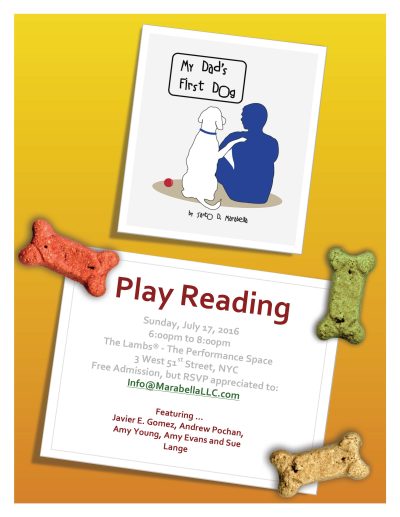 Synopsis
"My Dad's First Dog" wonders why in a world full of ways to communicate and connect, we're so disconnected and isolated. Dad and his dog, Buddy, are best friends.  Dad does everything to make Buddy happy, and Buddy does the same for his Dad.  Buddy's happiness is pretty simple – eat, play, love.  However, Dad's quest for happiness is a more challenging journey.  Even with Buddy's canine care, Dad faces many obstacles and disappointments.  But, Buddy won't give up the pursuit, as long as Dad doesn't.
Background
Marabella's first dog, Rafaelle, has taught him a lot – and it's not just about how to take care of an active and loving flat-coated retriever!  Marabella learned why so many people say their dog is their family – because they always love us and they can get us to deal with even the most challenging experiences life throws our way.  The question is:  will we be like our dog and take them on with puppy enthusiasm or will we give up our chance to grow? Only our dog knows for sure!
Writer, director  & producer (2016)
Synopsis
This is the story of what happens when the bully grows up.  Jo-Jo, had a secret that created many challenges as an adolescent that manifested through angry, bullying behavior. Now, an adult, Jo, wants to take responsibility for the past and apologize.  The question is – are the bully's targets ready and willing to accept the apologies.
Background
This play was written as my way of healing from being a bully's target.  I fully expected the bully in this story to have a horrific demise, but the universe had other ideas.  What started with vengeance, ended with empathy!


Writer, director  & producer (2016)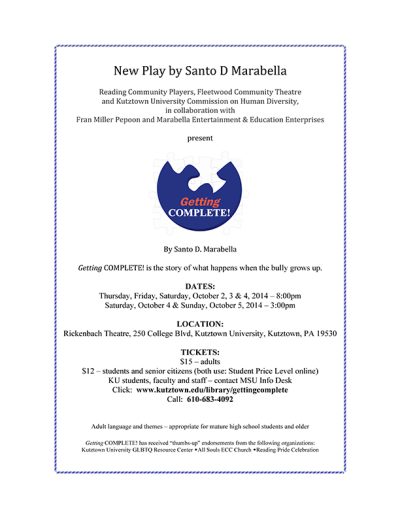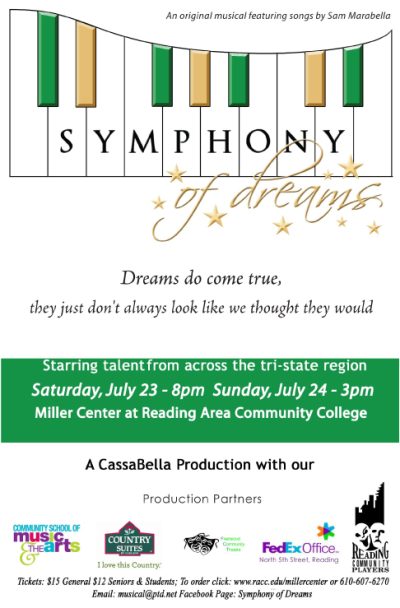 Synopsis
Dreams do come true – they just don't always look like we thought they would.  This is the lesson Sal – a passionate songwriter, competent accountant and love-struck guy – has to learn the hard way.  His clear vision for his life is spoiled by life's unpredictable turns of fate and his "symphony of dreams" becomes more of a cacophony of disappointment, so he abandons everything.   But through his desolation, Sal learns how to create a harmony in which music, job and romance work together in a way he never thought possible – giving Sal the life he always wanted.
Background
Santo's father, Sam Marabella, was a schooled and skilled pianist, orchestrator and songwriter.  Santo often collaborated with him in creating songs and various community projects where Sam's talents entertained adoring fans.  The largest collaboration was when Santo incorporated 15 of Sam's songs in to a musical play.  It was a homage to both Sam's beautiful songs as well as his own life of pursuing his musical dreams.   Sam and Anna (Santo's mom), along with more than 500 friends, family and members of the community were able to enjoy this production when it was put up in July 2011.
Writer, director  & producer (2011)