The Practical Prof
Home of The Practical Prof®
Is your organization in need of a little Heart & Spirit?
Whether you need a speaker for your annual meeting, a trainer for your employee development or a case statement for your cause, The Practical Prof® can help!
Work with The Practical Prof®
The Practical Prof® speaks, trains, writes … business! The alter-ego of Dr. Santo D. Marabella, The Practical Prof® emerged from his monthly business column in the Reading Eagle's Business Weekly publication beginning in April 2012. A real college prof, Marabella knows all too well the value of research and evidence-based solutions, but recognizes that often the academic world can seem detached from everyday business. So, The Practical Prof® makes knowledge and information accessible through simple lessons for anyone who works! Through his keynotes, workshops, and writing, employees, volunteers and leaders in business and not-for-profit organizations everywhere learn to "mange with a heart, in ways that feed the spirit"!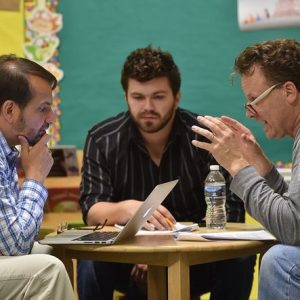 "Manage with a heart,
in ways that feed the spirit."
This is the philosophy that guides the work of The Practical Prof®. Marabella believes that business as usual is not working. Economic recessions, inflation and business hardships in a post-pandemic world have not only decimated our income, they have also devastated our spirits. Employee disengagement — dissatisfaction, anger, boredom – costs U.S. employers hundreds of billions of dollars annually in lost productivity, employee theft and absenteeism (Gallup Workplace Reports).
Add careless communications, avoidance, poor customer service, work-life imbalances, high stress, low productivity, and workplace bullying and we have a state of corporate emergency. The energy and spirit — the soul — of our employees and volunteers is grossly eroded.
To move forward, we need to go back to business basics – treating people like they're our greatest asset – cuz they are! When we create community at work a culture emerges that is poised to "manage with a heart, in ways that feed the spirit". It costs a little, but benefits a lot – our employees, our companies and organizations, and our society! The Practical Prof® also partners with respected organizations to achieve your professional development goals. 
Professional Affiliations